---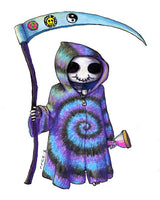 Death is having a good day! This peacenik happy hippie grim reaper is sure to put the DIE in "tie dye."
Perfect for peaceful zen folks everywhere, including but absolutely not limited to Grateful Dead lovers and Phishheads.
Cute and deadly art for all! Have a nice day.
The painting was made on paper with inks, colored pencils, gouache, acrylic paint pens, and diabolical love.
----------------------------------
Prints are lovingly crafted by the artist using archival pigments and papers. 
Cards are A6 size, and come with an envelope.
© Martha Hull 2020