---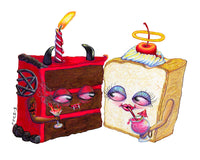 Devil's Food cake. Angel Food cake. Proof positive that opposites attract. And maybe that all those "angels" have a little devil inside, too.
Is it lust? Is it love? Who cares?! It's a Hell of a cocktail party these two are at.
This artwork drawn and painted with mixed media on paper, and LOTS of diabolical love.
----------------------------------
Prints are lovingly crafted by the artist using archival pigments and papers. 
Cards are A6 size, and come with an envelope.
© Martha Hull 2020