---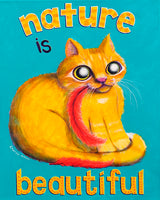 Cats are killers. Cute, fluffy killers. This artwork features a charming orange tabby cat with a red feather in its mouth. It also has the ironic words "nature is beautiful."
Do you love cats despite their hard-wired evil streaks? Then this kitty is a friend for you, and would look great on your wall. This artwork is based on the artist's own cat, Cee Cee. Cee Cee prefers catnip mice over birds, but that's because she doesn't leave the house and they are easier to find.
Original artwork is painted with acrylics on canvas.
----------------------------------
Prints are lovingly crafted by the artist using archival pigments and papers. 
Magnets measure 2.5" x 3.5" and are STRONG. They hold stuff up!
Cards are A6 size, and come with an envelope.
© Martha Hull 2021