---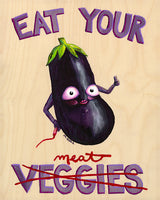 This eggplant has found a way to redirect attention from being eaten - graffiti! The new message is "eat your meat," and it seems pretty proud of itself to have solved that pesky little mortality problem.
A fun piece of vegetable art, appropriate for the kitchen or any other room of the house. 
This image was created on a birch panel using a variety of art media. Prints look like they are actually on wood!
© Martha Hull 2019