---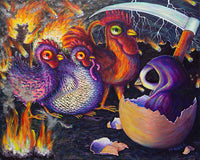 It's the four chickens of the apocalypse! 
Pestilence, Famine (she ate ALL the food), War, and the newly hatched Chick-Reaper are burning down world. Complete with barn fire, flaming silo, and hot hail, this artwork is sure to please your favorite apocalypse lover and chicken lover.
Original artwork is acrylic paints on canvas.
----------------------------------
Prints are lovingly crafted by the artist using archival pigments and papers. 
Cards are A6 size, and come with an envelope.
© Martha Hull 2019