---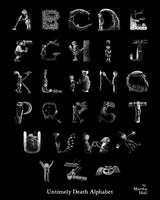 The entire deadly alphabet all in one place! Artwork from the book Untimely Death Alphabet. Adorable small children, in morbid, precarious, yet funny situations in the shapes of the letters of the alphabet. 
Whether you're a fan of the book or just into creepy alphabets, this piece of art is for you! In classic black and white. Inspired by Edward Gorey's Gashlycrumb Tinies but very much its own thing, owning this will enhance your cute and deadly art collection for sure!
Get your gallows humor on and get one today!
Original alphabet art created in scratchboard.
Available as
© Martha Hull 2018