---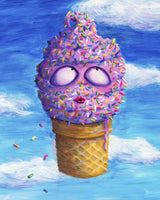 Ice cream. It's hard to be ice cream in the summer. Everyone wants a piece of you.
This pink soft serve ice cream cone with rainbow sprinkles has a bite taken out, and floats in a beautiful blue sky. Creemee is the Vermont name used for seasonal soft-serve on a cone.
Original painting is an  acrylic painting on canvas.
(c) Martha Hull