---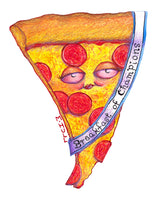 Some say cold pizza is the 'breakfast of champions." Whether this is your belief or not, there is something compelling about pizza in almost any state.

This slice of leftover pepperoni pie is basking in its prize-winning glory.
The original artwork was made using vibrantly colored inks, colored pencils, and love of cheese.
© Martha Hull