---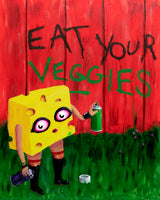 Growing up on the farm, Cheese had opinions that couldn't be contained. Here, she has spray-painted some "eat your veggies" graffiti out behind the barn. Note the red clover, Vermont's state flower.

This art is an imagining of the early adventures of Martha's signature cheese character in When Cheese Goes Bad
This painting was made with acrylic paints and lots of diabolical love.

© Martha Hull 2020