---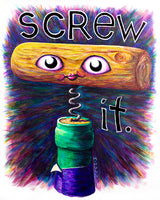 Whether you're having a great day or a horrible day, wine is the answer. This anthropomorphic corkscrew is about to help make your problems go away. 
For wine lovers and lovers of sass in general, this art will inspire and beautify your kitchen, wine cellar, living room, office, friend's mailbox, or feasting hall. 
----------------------------------
Prints are lovingly crafted by the artist using archival pigments and papers. 
Magnets measure 2.5" x 3.5" and are STRONG. They hold stuff up!
Cards are A6 size, and come with an envelope.
© Martha Hull 2019