---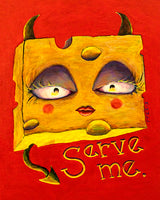 Do you love cheese? Do you REALLY love cheese? Do you choose to serve cheese?
This sexy devil cheese insists you serve them. Cheese is a tasty thing to consume, but you can also be consumed by your passion for it.
For fans of cheese. Also for people who enjoy a pleasing a demanding mistress in other ways.
(c) 2021 Martha Hull