---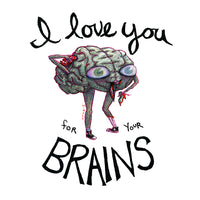 Zombie brain, eating itself!
Love is weird. Zombies are weird. Self-cannibalism is weird. (No offense meant to those autocannibals out there!) These things together equal UNDYING adoration.
This art is perfect for your zombie-loving lover, friend, graduate, or other smart person (like yourself!)
Zombies never die... unless you kill the brain! Or maybe, eat too much of it?
© Martha Hull 2019