---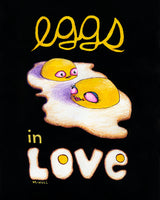 These eggs are in love. Too bad they've been fried into place so they can hardly see each other. 

This art is about the challenges of being, and dealing with hand you've been dealt, particularly in these times. And about love. And about eggs.
The original was made with mixed media on paper. 
© 2020 Martha Hull