---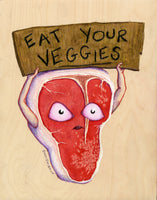 This piece of meat would like you to eat your veggies, instead of… meat. Holding a homemade cardboard sign, this T-bone steak is anxiously awaiting your dinner choices.  
A fun piece of food art, appropriate for the kitchen or any other room of the house.
This image was created on a birch panel using a variety of art media. Prints look like they are printed on actual wood!
----------------------------------
Prints are lovingly crafted by the artist using archival pigments and papers. 
Cards are A6 size, and come with an envelope.
© Martha Hull 2019