---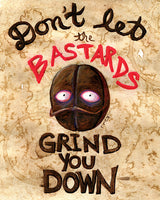 Be you coffee bean or human, don't let the bastards grind you down.
Maybe it's your evil boss, maybe it's The Man… Show them they can't win with this print, featuring a cute anxious coffee bean and inspirational text. The background of the original drawing was textured with real coffee! For the java lover, foodie, or person who has just plain had enough.
----------------------------------
Prints are lovingly crafted by the artist using archival pigments and papers. 
Cards are A6 size, and come with an envelope.
© Martha Hull